Overview
This bulletin covers announcements from NetFoundry, features released between June 2023 and August 2023, latest blogs & articles. Highlights include the new navigation in console, support for proxy and launch of ZROK 4.x with ZROK SDK.
Branding of vanity URL
In the past bulletin, we announced the branding capabilities for nfconsole.io. We have added support for branding the vanity URL or the URL that is used for logging into your NetFoundry console org. This typically – yourorgname.nfconsole.io/login. Below is an example of how login page looks after applying the color and logo effects.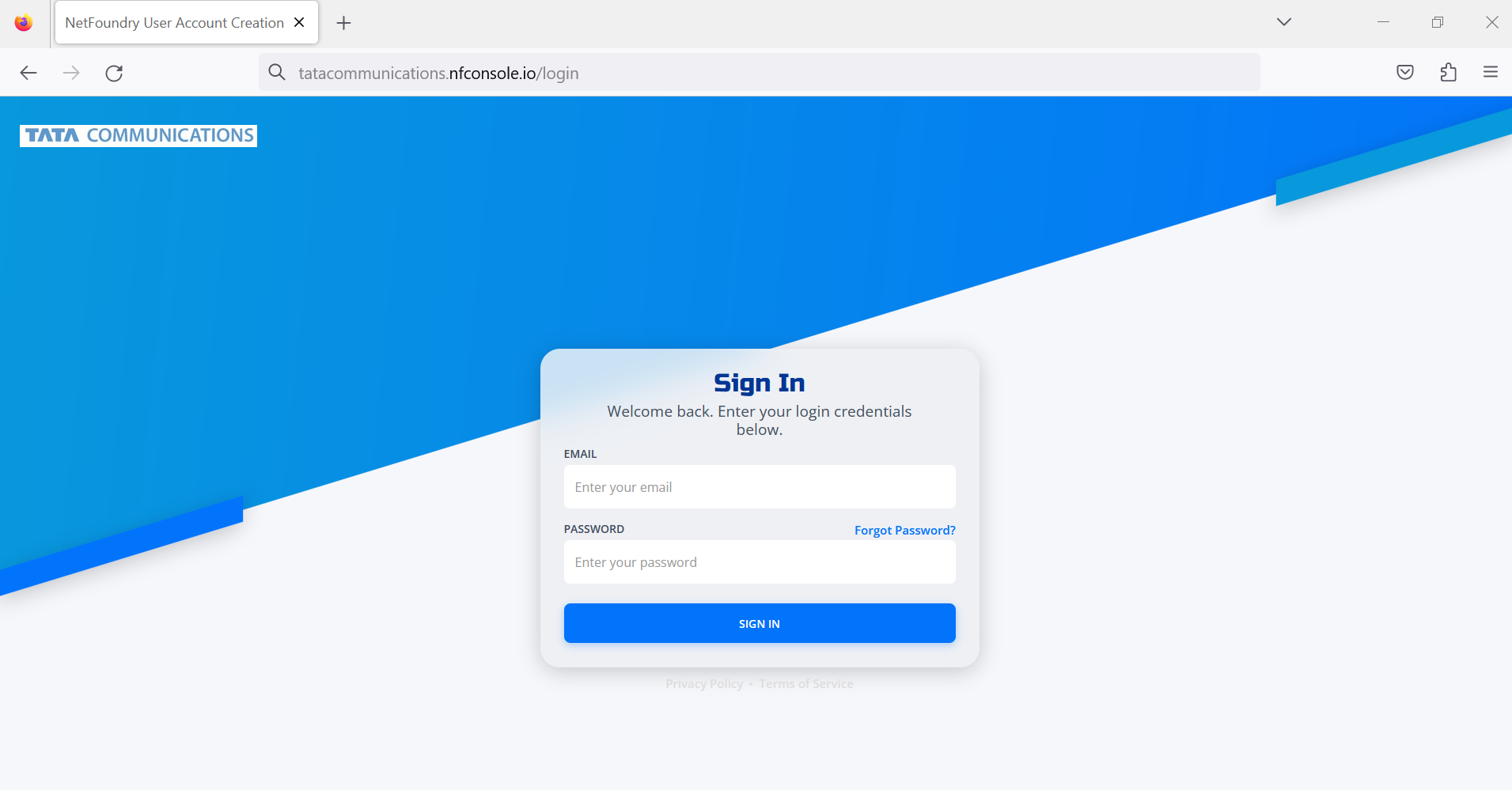 New navigation layout in nfconsole / MOP:
The new navigation is set to replace the old navigation in console / MOP. If you are a regular user of nfconsole.io, you must have experienced the change already. The new navigation is all set to replace the existing layout in console and incorporates grouping of components by their function. Some of the key changes are – Endpoints are replaced by identities. APPWANs are replaced with service policies.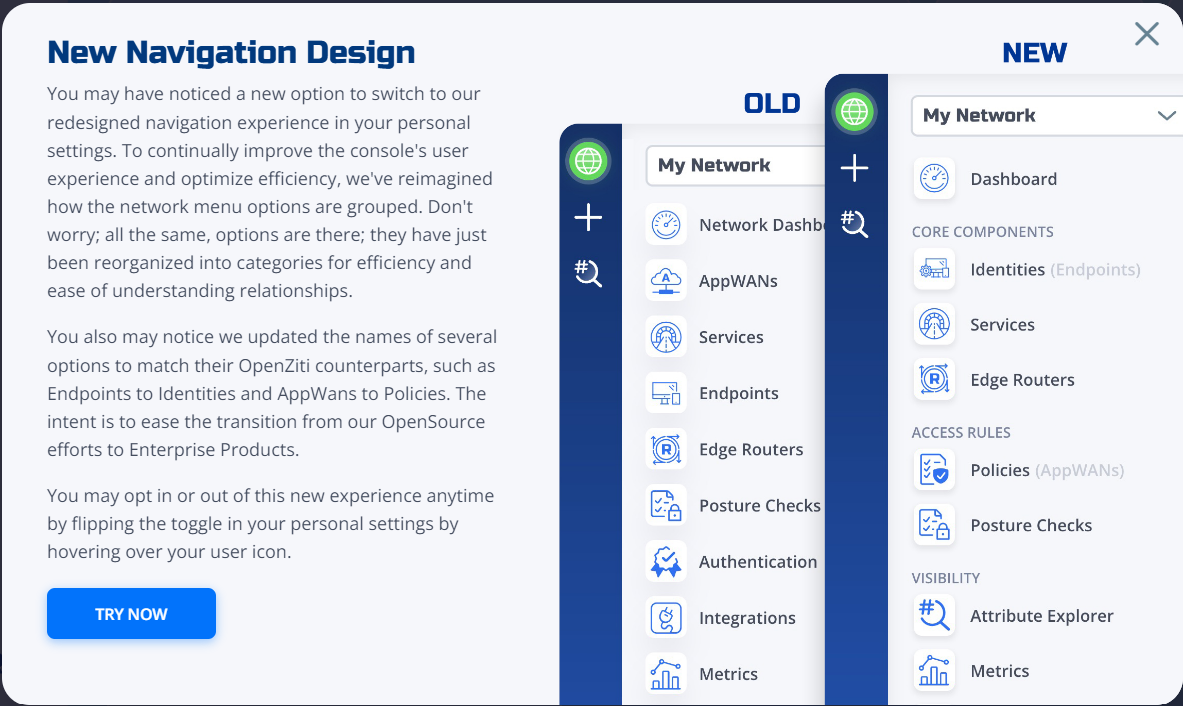 Option of moving configuration management port:
Customer edge router software updates are managed via port 6262 by default. If end customers of our partners do not want to use this port and continue to operate only via port 80 & 443, this is configurable by NetFoundry and requires a downtime. Partners requiring to disable 6262 may contact customer support.
Support for Proxy in customer edge routers
Starting Ziti version 0.30.2, support for http proxy (without proxy authentication)  in customer edge routers has been added. The CLI context can be found in the release notes.  https://github.com/openziti/ziti/releases/tag/v0.30.2. With this feature customers can provision customer edge routers behind a proxy.  Proxy support for ZET is coming soon (with support for the c-SDK).
Re-enroll support for edge routers
Customer edge routers that require to be re-registered can be done with the "re-enroll" feature without having to delete / re-create. This also impacts the service policies positively that the services need not be modified after the router is re-enrolled.

Geneve protocol support for AWS GLB
AWS GLBs use the Geneve protocol that is used by software and hardware providers for extensibility in virtual networks. Support for Geneve protocol has been added starting ziti version 0.27.3. Pls refer the guide for provisioning ingress HA in AWS for ERs with GLB.
ZROK 4.0 and ZROK SDK
We released ZROK 0.4.0 with new features such as TCP and UDP tunnels, refreshed console with more visibility and metrics & more. We have also launched the ZROK SDK with ZROK 0.4.3  for creating your own custom applications and integrations with ZROK share. The same simple, secure sharing model used for sharing network resources and files can be extended to work for your apps and tools with the ZROK SDK.
Articles, updates and software releases:
The following articles are added:
Solution Recipes:  Secure Odoo business management application suite with BrowZer
                                BrowZer Deployment using CloudZiti with AzureAD as IDP
                                BrowZer Deployment using CloudZiti and Auth0 as the IDP
Support guides:   Deploy Edge Router as Docker container
                               Multiple docs under BrowZer
Blog : Secure your Python website with Ziti Python SDK
Closing Thoughts:
Watch our youtube channel and openziti channel for updates, demos and all exciting stuff on NetFoundry. If you are interested in our "Browzer" solution , zrok.io, additional use cases or if you have any feedback about these features, please contact us at customer.success@netfoundry.io. You can also reach out to us on the same email address if you would like to participate in the customer spotlight sessions.